A List of Countries Convicted Felons Can Travel To (& Not)
Knowing which countries felons can travel to and not is important if you're a convicted felon and you want to travel. To help you out, I've put together a complete list of countries with their rules and restrictions when it comes to letting criminals enter the country.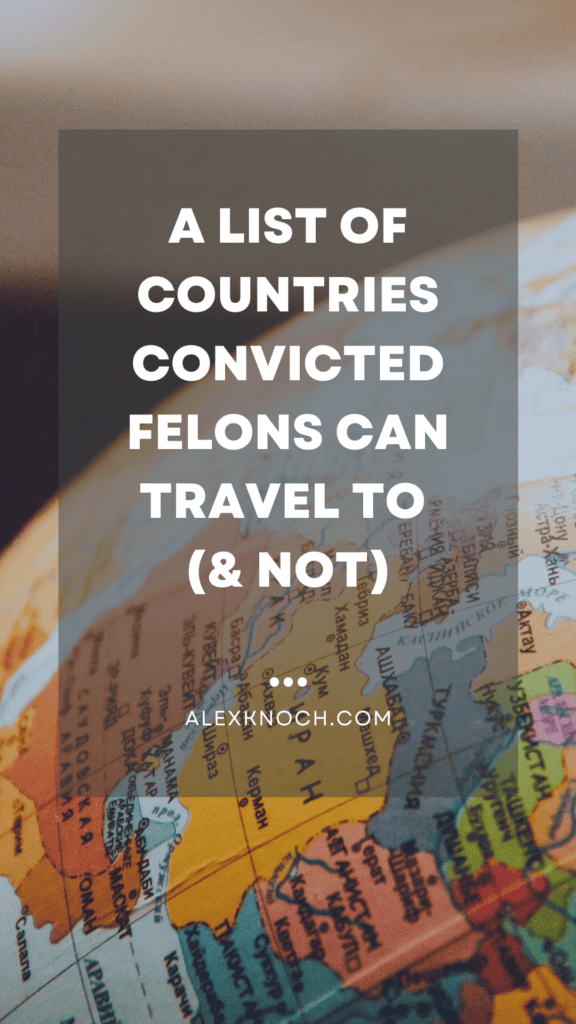 If I've missed something or if there's something you like to add, let me know in the comments below.
Countries Felons Can Visit
You might be wondering, what countries a convicted felon can travel to? Felon friendly countries include:
Colombia

Morocco

Tanzania
Thailand
Countries With No Visa Requirements
The following is a list of countries that don't require a visa to visit so as long as you have a valid passport, they'll let you in. However, some of these countries do have laws stating that they don't allow felons so if it's discovered you have a felon, however rare, you could be denied entry.
Austria
Belgium
Bulgaria
Brazil
Cambodia
Cyprus
Czech Republic
Denmark
Dominican Republic
Egypt
Estonia
Ethiopia
Finland
France
Germany
Greece
Hungary
Hong Kong
Iceland
Indonesia
Ireland
Italy
Latvia
Liechtenstein
Lithuania
Luxembourg
Malaysia
Malta
Mexico
Nepal
Netherlands
Norway
Peru
Philippines
Poland
Portugal
Singapore
Slovakia
Slovenia
Spain
Sweden
Switzerland
South Korea
Tanzania
Tunisia
Turkey
Ukraine
Countries Felons Might Be Able To Visit
China
Japan

Japan has as a zero tolerance policy for those with drug convictions.
Countries That Don't Allow Felons
The following list is of countries that don't allow felons and will deny entry and/or visas upfront. Each country has its own definition of what crimes constitute denial so even if a country is on the list, you may still be able to get in.
Argentina
Australia

Australia denies anyone who has been sentenced to a prison term of 12 months or more.

Canada

Canada denies anyone who has committed a non-summary offence unless they prove to the Canadian Minister of Immigration that they are rehabilitated.

Chile
Cuba
India
Iran
Israel
Kenya
Macau
New Zealand

New Zealand denies anyone who, in the past 10 years, was convicted and sentenced to prison for 12 months or more, and permanently denies anyone who has been sentenced to prison for five years or more.

South Africa
Taiwan
The United Kingdom

The United Kingdom denies anyone who has been sentenced to prison for less than 12 months in the last 5 years, 1 to 4 years in the last 10 years, and permanently if you've spent more than 4 years in prison.
If you still need a passport, be sure to check out my post on passports for felons as there are certain restrictions you'll have to follow before you can get one.
Latest posts by Alex Knoch
(see all)